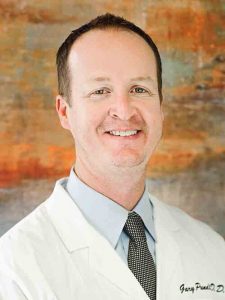 Dr. Pundt has followed his passion in dentistry to help patients in a variety of ways. He loves helping people see a new era in dentistry that is not the stereotypical dental visit. He incorporates new technology and modern techniques, he helps patients de-stress in a calm / relaxing environment, he helps people get out of pain, he promotes optimum oral health care, he thrives on helping people create a smile they are proud to see in the mirror every day.
He approaches every patient with the same kind, caring, compassionate care that each patient deserves. He strives to give each patient the type of care he would give his own family members. His goal is to combine his experience and gentle touch with advanced technology in dentistry to provide the ultimate patient experience – no matter what the treatment involves.  Dr. Pundt maintains Continuing Education classes that keep him in touch with the latest in technology and advances in dentistry.
Dr. Pundt earned his degree in Business Management from his undergraduate studies at Southwestern Adventist University, a small Christian university in Keene, Texas. He went on to earn his DDS degree from Loma Linda University School of Dentistry (LLUSD) in 2004. He graduated with Distinguished Recognition from the Removable Prosthodontics Department. He not only assisted as a student instructor during his tenure there, but continued as an Associate Professor with LLUSD for another year following graduation.
After 11 years of practicing dentistry, Dr. Pundt joined Navarro Dental Center in 2015. He enjoys the freedom that General Dentistry brings by allowing him to serve his patients in all aspects of dental care. He enjoys offering Endodontic care, Oral Surgery, and improving the cosmetic appearance of patients' smiles. He also offers same-day porcelain restorations to his patients.
Dr Pundt has served the dental needs of others through international dental mission trips to a variety of countries including Mexico, Nicaragua, Turks & Caicos, St. Vincent, and St. Kitts. He also participates with a variety of local organizations that provide free dentistry through Dentistry From The Heart, Mission of Mercy, Pathways To Health, and others.
When he is not helping patients receive top-notch dental care, he enjoys spending time with his wife, daughter, and son. They have three chihuahuas that keep them company. On the top of his outdoor activities is boating, wake boarding, skiing, and dirt bike riding.