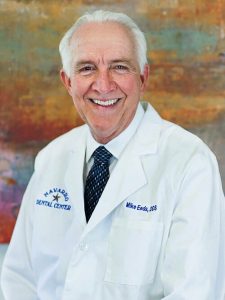 The Navarro Dental Center office reflects Dr. Eeds' philosophy of care. "I like to treat people the way I would want to be treated," he said.  "Our new state of the art facility was designed with the comfort of our patients in mind."  The soft tones of the new office décor help calm patients of all ages as they arrive for services.  Wi-Fi access, in addition to TV and music selections are available for patients' use.  To ease the anxiety often associated with dental work, we offer nitrous oxide (laughing gas) , sedation dentistry and may also offer prescriptions for relaxation. The new facility is also fully handicap accessible.  We treat a lot of children and offer a special "KidZone" waiting area equipped with video games, TV and toys to help them look forward to coming to the dentist.  Dr. Eeds is on staff at Navarro Regional Hospital where he treats younger children under general anesthesia.
"We will always recommend what we feel is best for our patient's oral health, and with modern technology, we can provide conservative solutions quickly and effectively. We get a lot of word-of-mouth referrals from satisfied patients".  Referrals may be made, as well as appointments requested, on-line at their easy to navigate website or on their Facebook page at NavarroDentalCenter.com.  On-site reviews rate Dr. Eeds and his staff as having a professional, kind and gentle demeanor.
A native of Dallas, Dr. Eeds graduated from The University of Texas at Arlington and Baylor College of Dentistry. In the practice of dentistry since 1974, Dr. Eeds is also a member of the American Orthodontic Society.  Dr. Eeds updates his dental skills continually in order to bring the latest advancements in dental care to his patients.  The office manager, Evie Eeds, Dr. Eeds' wife, is joined by seven friendly, well-trained and experienced employees who provide patients high quality preventive and restorative dentistry services.  Bilingual staff is also available and emergencies are seen the same day.
In their spare time, the couple enjoys traveling.  Their hobby of scuba diving has taken them to many of the most beautiful places in the world−Cozumel, Mexico, Honduras, Bonaire, the Grand Cayman Islands and Key West, Florida.  Mike and Evie are both certified as Master Scuba Divers.  Dr. Eeds is an emergency medical technician (EMT), a diver medical technician (DMT) and a certified hyperbaric technician.  Included in their travels is also a medical mission trip to Guatemala where they provided dental services for the indigenous Mayan people of that region.
Dr. Eeds owns four classic muscle cars which reflect his interest in the 1960s. He has also been the CEO of Martin Brothers Bikes, where custom motorcycles were designed and built. "He was living his mid-life dream," Evie said. During that time the company built The Patriot Bike which won the World Bike BuildOff , and was featured on numerous shows on the Discovery Channel . "That was our 15 minutes of fame," Dr. Eeds quipped.
Dr. Eeds and Evie are parents of grown children, son, Chad and daughter, Erika.  They are members of the First Baptist Church of Corsicana. A friendship with Dr. John Gober, son of Dr. Ralston Gober, brought the Eeds to Corsicana. "We came to visit and liked the small town atmosphere," Dr. Eeds said. This couple, who went to the same big town, Dallas high school, is now looking forward to investing in the future of Corsicana.