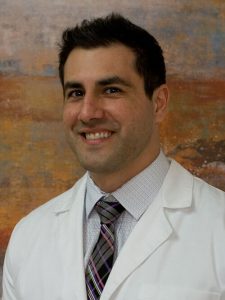 Dr. Nemovi received his Doctor of Dental Surgery degree from the University of Oklahoma College of Dentistry. After practicing for several years he was awarded the opportunity to attend school at the University of West Virginia, in order to complete an advanced one-year Periodontal Preceptor Surgery Residency where he received training in complex Implant surgery, full mouth extractions, tissue grafting, sinus lifts, and bone augmentation surgeries.
Dr. Nemovi has served as part-time clinical faculty at the West Virginia College of Dentistry as Clinical instructor and clinical evaluator for 3rd and 4th year dental students. He was also a guest lecturer presenting different topics in Cosmetic and Surgical Dentistry.
Furthermore, he has completed an extensive training in IV moderate conscious sedation in order to better treat his anxious patients not only for surgery but also for simple procedures such as fillings and cleanings. He currently holds dental licenses in 3 different states. He has advanced training in Cosmetic Dentistry (including Veneers & Lumineers®) and holds an advanced level Invisalign certificate.
He has completed advanced training at the Pikos Institute for Advanced Implant Soft Tissue Grafting, Advanced Bone Grafting, Sinus grafting for implants, American Academy of Facial Esthetic for Botox and Dermal Fillers and more.
Dr. Nemovi is a certified piano instructor and music composer. He has composed and arranged music in different genres including jazz, classical, house, R&B and modern music. His compositions were played on OKC FOX Morning News.