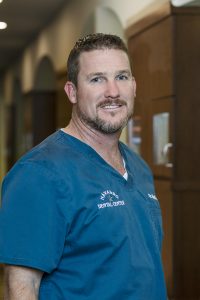 "For me, the best part of my day is seeing the happiness on my patients face. I enjoy helping you feel better and leave the office with the biggest smile on your face. Thank you for trusting me with your dental health and smile"
Dr. Jones graduated from the University of Louisville School of Dentistry in 2004. He practiced dentistry with the United States Air Force until 2010. Dr. Jones philosophy is derived from the Air Force core values of integrity, service and excellence. He strives to provide quality and pain-free dentistry to his patients with an honest and fair approach.
Dr. Jones has been trained in many sub- specialties of dentistry in order to offer the best patient care available. He completed a General practice Residency in dentistry that provided him the opportunity to offer such services as root canals, sedation dentistry, teeth removal including wisdom teeth, implant dentistry and routine dental care (Fillings, Crowns, Cleanings). He is committed to quality, and this is why he completes more than the state requirements for continuing education yearly. One of his most recent continuing education courses was detailed in Full-Mouth rehabilitation.
When not providing excellent care to his patients, Dr. Jones enjoys spending time with his three beautiful children: Chloe, Carly and Calum. You can find Dr. Jones out in the sun on his boat, fishing, or enjoying a baseball game when he is not serving his patients.